Artisan pasta makers since 1953 Specialized in the production of fresh pasta, with and without eggs, and ravioli, agnolotti, gnocchi, noodles and plins (pinched agnolotti) made on a daily basis, and many typical recipes from the Italian tradition.
Pasta & Company. Ours is a history made of a little bit of luck and plenty of hard work. We were lucky to inherit from our grandparents their passion for good food, taste education, the magic and the secrets of the art of baking.

Consult our website to find out about all the products
News

ends on... 01-09-2019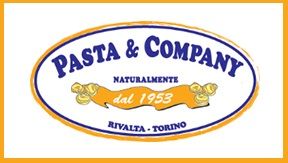 Enlarge Map...
Via Flavio Gioia, 3 Rivalta di Torino
PASTA&COMPANY Via Flavio Gioia, N° 3 Rivalta di Torino (TO) 10040 - TORINO - ITALY - FOR ANY INFORMATION : PHONE : (+39) 0119091471 FAX : (+39) 0119091787 - Mail: info@pastaecompany.it - "OFFICE HOURS" Monday - Friday 08:30 AM - 12:30 PM 2:00 - 6:00 PM
Request information
(registration required)
Go to user page